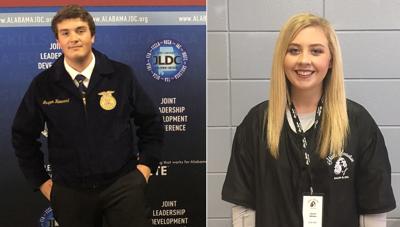 CENTER STAR — A senior from Waterloo and a junior from Lauderdale County High School have been recognized by the staff and faculty at the Allen Thornton Career Technical Center for their outstanding efforts in career technology during December.
Director Gary Dan Williams said monthly awards are given for the career and technical student of the month, and employee of the month at the Simulated Work Place at Allen Thornton.
Jasper Hammond of LCHS is the Career and Technical Student of the Month. He is a member of FFA, Young Farmers and the Lauderdale County Junior Cattlemen's Association.
Harlee Whitten of Waterloo is the employee of the month. She is completing her fifth cosmetology course. She has also attended Northwest-Shoals Community College during the summer, where she has earned college credit toward her cosmetology degree.
She competed and placed at both district and state SkillsUSA competitions this past spring.