You might have a problem with us telling you to lay your hands off that Chocolate Cake for a while but don't you think life is too short and you should experiment while you can? Try out something new in your kitchen the next time you have a yearning for making a dessert. This Raspberry Cheese Cake recipe by Chef Ashish Rai, Head – Culinary, Barbeque Nation will blow your mind away!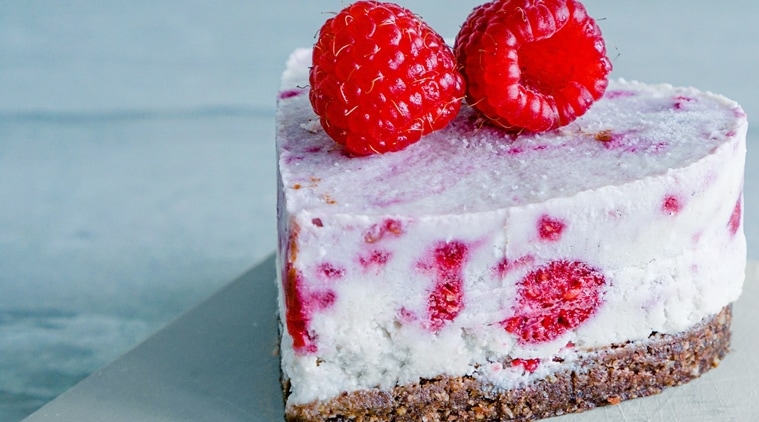 Ingredients
7 – Biscuit crumbs
450g – Cream cheese
½ kg – Fresh raspberries
¼ tsp – Cinnamon powder
4 tbsp – Butter
½ cup – Whipped cream
¾ cup – Confectionery sugar
A few drops of vanilla essence
1 sheet – Unflavored gelatin
2 tbsp – Brown sugar
Method
For the crust
* Grind the biscuits, and then add butter, brown sugar to it and mix it well.
* Take a 8 inch pan and layer it with the biscuit mixture evenly on to the bottom and the sides of the pan. Rest it for 30 mins and then bake for 5 mins, till it turns crusty.
For the topping
* Take half of the raspberries in a pan with ¼ cup sugar and 2 tbsp water and cook till the raspberries are quite soft.
* Remove from heat and blend it to form a puree. Put it over slow flame once more. In the meanwhile, add water to the gelatin sheet and let it rest for a few mins. Then add gelatin to the raspberry puree until it has dissolved. Remove it from heat.
For the cheesecake
* In a stand mixer, beat the cream cheese and sugar on medium-low speed with the paddle attachment until smooth. Add the vanilla extract.
* Now, add the raspberry topping, except the 3/4 cup you have reserved for the top layer.
* In a separate bowl, whip the heavy cream until the medium peaks. Gently fold the whipped cream into the rasberry cheesecake batter just until it's all combined.
* Pour this mixture into the crust pan and set it in the refrigerator for 3-4 hours or until set.
* Remove it from the pan and serve it with some fresh raspberries on top.
* You can also use a little desiccated coconut for the flavour.