Strawberries with whipped cream or chocolate syrup is always a favourite. But don't you ever want to move ahead and try something new in your kitchen? Simply watching MasterChef won't help you. You need to get out there and try your hands at making something new. These recipes by Chef Jitendra Upadhyay, Pastry Chef, Renaissance Lucknow Hotel are worth trying. You will thank us once you master it.
Fresh Strawberry Tart with Mascarpone Cream
Ingredients
For the Tart base
100g – Unsalted butter
50g – Icing/ Confectioners' sugar
1 pinch – Salt
2 tbsp – Milk
150g – All-purpose flour
A few drops of vanilla extract
For the Mascarpone Cream filling
100g – Whipped topping cream
100g – Mascarpone cheese
A few drops of vanilla extract
For the Fruit topping and garnish
Fresh strawberries
Chocolate /Nuts (Optional)
Method
* Sieve flour and salt together and keep it aside.
* Cream butter and sugar in small bowl.
* Make the dough for the tart by mixing all the ingredients and keep it in the refrigerator for an hour.
* Remove dough from the refrigerator, roll it out and place it into a greased tart pan. Press it down and up the sides until it is even. Refrigerate tart for at least 10-15 mins.
* Preheat oven to 170 degree celsius. Remove tart from the refrigerator, dock it with a fork and bake for 15-18 mins.
* Allow to cool completely before filling.
* Make the filling by mixing all the ingredients carefully with a spatula and cover the insides of the tart with it.
* Garnish the tart with fresh strawberry/chocolate/sliced pistachio.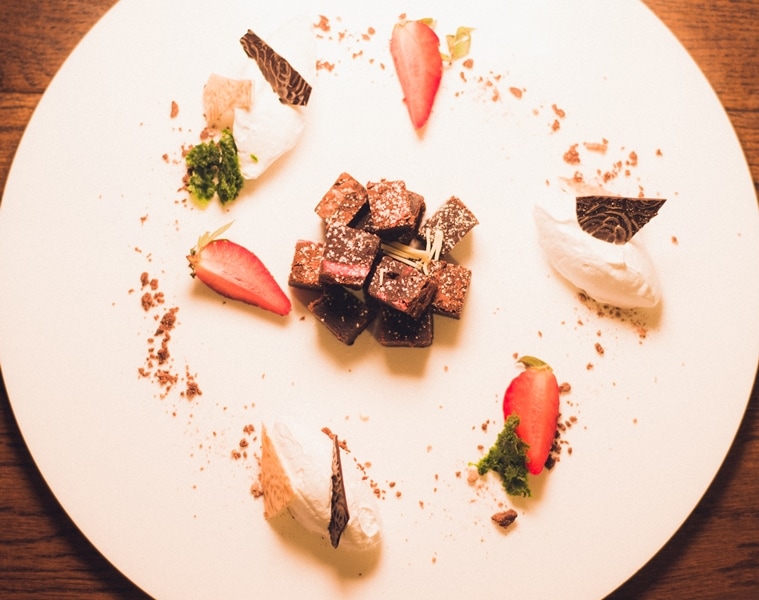 Strawberry Chocolate Brownies

Ingredients
250g – Dark chocolate
250g – Unsalted butter
360g – Caster sugar
5 – Eggs
5ml – Vanilla extracts
100g – Strawberry chocolate (chopped)
50g – Chopped nuts
65g – All-purpose flour
1 tsp – Baking powder
For Garnish
Fresh strawberries
Vanilla ice cream
Chocolate garnish
Method
Preheat the oven to 170 degree celsius.
* Line a 24cm square baking tin with greaseproof paper.
* Melt the dark chocolate and butter into a large bowl and place it on a pan of simmering water.
* Sift the flour and baking powder in a separate bowl and add nuts and strawberry chocolate chunks to it.
* Beat the eggs and sugar until you reach a silky consistency.
* Beat the eggs and add the chocolate mixer and all the dry ingredients to it.
* Pour the brownie mix into the greased baking tin.
* Bake at 180 degree celsius for 25-30 mins.
* Allow to cool, then cut into chunky squares.
* Serve with vanilla ice cream and fresh strawberries.