Who says healthy and tasty can't go together? Apricot is a powerhouse of antioxidants, vitamin A and is also a rich source of fibre, while halloumi cheese which originated in Cyprus is semi-hard, unripened brined cheese made from a mixture of goat and sheep's milk and is considered as one of the healthiest cheese ever. When combined together, it makes for a great meal.
The chefs at Hyatt Regency, Gurgaon have come up with a recipe which is not only high in nutritional values but is equally delicious. We say it works as a perfect side dish.
So, beat the summer heat with the new Grilled apricot and smoked halloumi cheese recipe!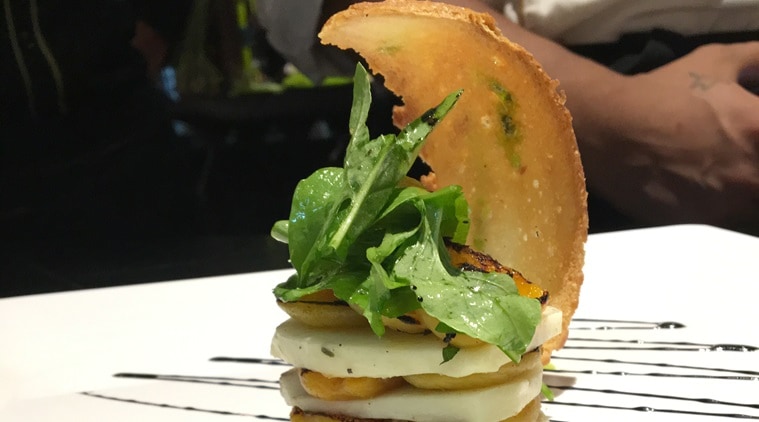 Ingredients
125g – Halloumi cheese
100g – Fresh apricot
100g – Basil leaves
50g – Brioche loaf
5g – Clarified butter
10ml – Arugula leaves
15ml – Extra virgin olive oil
5g – Mix lettuce
5g – Balsamic cream
50g – Basil pesto
Method
* Slice halloumi cheese into 1.5 inch thickness and then smoke it with charcoal, thyme and butter.
* Slice fresh and peeled apricot and char-grill it.
* Marinate smoke halloumi with extra virgin olive oil, shredded basil, sea salt and crushed pepper.
* For making brioche crisp, cut brioche loaf into long triangles.
* Soak slices of brioche in clarified butter and place it on the cutter to form half spheres.
* Cook this brioche crisp on 100 degrees for 18 mins.
* For platting, squeeze balsamic and basil pesto on plate.
* Place smoke halloumi and chargrilled apricot in layers and then place brioche crisp on top of it.
* Drizzle extra virgin olive oil, add some lettuce on top and serve.