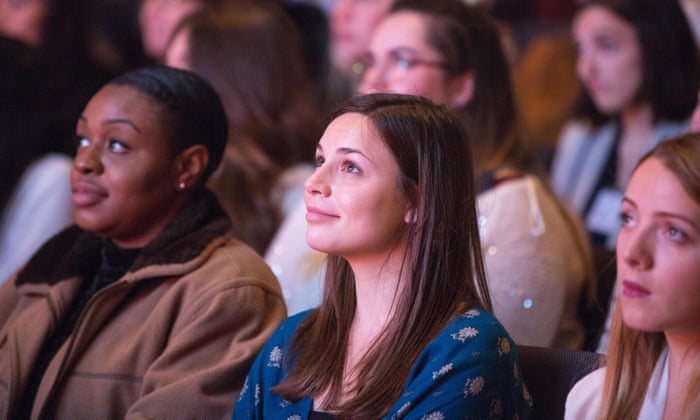 The grim mismatch between the number of university leavers each year and the jobs appropriate to their skills means young people will do all they can to get one up on the competition.
For young women, there's added pressure. Because once they get a decent job, they still have to contend with structural workplace discrimination, overtly sexist behaviour and a weight of social expectations.
But with the rise of feminism in politics, business and pop culture over the last few years, female graduates are now more likely to know their worth and seek out strategies for dealing with workplace prejudice.
"Congratulations that you're all women in this time because it's about to be agood time!" roared Radio 1 DJ Gemma Cairney to a group of enthralled young women who came to the Guardian/RBS Forward Women conference last week, a one-day event of inspiring talks, workshops and networking opportunities.
Accomplished, enthusiastic women with thriving careers in fields as varied as athletics, banking and blogging shared their experiences of the workplace. Here are some sage pieces of advice we took away with us.
Step outside your comfort zone
Samantha Shannon, bestselling author of The Bone Season, began her talk by admitting that the last time she'd spoken in public, she'd been so nervous she could barely breathe. But she mustered up the courage to make a passionate denouncement of the sexism endemic in publishing, and you would never have known she was nervous. Her speech was an act of bravery everyone was inspired by.
In the workplace, you need to push yourself in order to grow, said Alison Rose, CEO of commercial and private banking at RBS. For example, apply for a job that feels challenging – you'll surprise yourself by how much you stretch into roles.
As women, we're not brought up to toot our own horn, said Vanessa Vallely, managing director of WeAreTheCity. But holding back gives more confident people a free pass to get ahead. So shout about your successes, even if it makes you feel uncomfortable.
"I've realised it's important to own up to your achievements – don't just put it down to your team, but put yourself out there," said Catalina Rozmarin, 23, a recent University of Sheffield graduate who attended the event. "I'll now think twice about how I introduce myself and the language I use to describe myself and my achievements."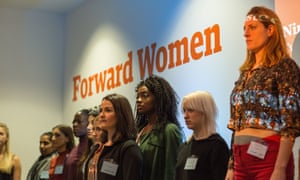 This extends to body language, too. Comedy duo Nina Smith and Libby Northedge, jointly known as Twisted Loaf, highlighted the importance of our individual physicality. At their workshop, they had everyone walking about with their chests thrust forward, to show how moving assertively makes you feel different about yourself. "Confidence is crucial in every job," they told the group. "We all read and respond to one another's body language."
Find a mentor
Having an older, more experienced person in your field to ask for advice and rely on for support can be hugely empowering, said Mair Rowlands, a Plaid Cymru county councillor and 2015 parliamentary candidate. She counts on her party's leader, Leanne Wood, to help her deal with the sexism she encounters in politics.
Shannon cited the quote "I cannot be what I cannot see" – to highlight the importance of role models. It was the backing of award-winning author Ali Smith that encouraged Shannon to send her own work off to an agent in the first place.
Be authentic and know yourself
Look up to others in your industry, but don't feel pressure to aim for everything they've achieved. By all means, borrow, and learn things from others, said Rose, but live life your way, otherwise "you'll only be a second class version of the person you're trying to copy".
As a young woman, it's easy to find yourself pandering to social expectations of how you're meant to behave – whether intentionally or not – but this often means sacrificing your own happiness. "You have to do what you love. Consider not being the CEO and firing people if it's going to make your life a living hell," said Carrie Osman, founder of Cruxy & Co and co-founder of Mad Brands.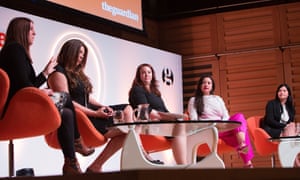 Naomi Shimada, feminist model and body image activist, recounted the pressure she'd felt to live up to the fashion industry's skinny ideal. In her late teens, she tried everything to lose weight but failed and gave up. "I didn't like the person I'd become anymore. I took time out and thought 'I have to change my box' – I'm not fitting into the box society has put me in." She is now a successful plus size model.
Eat in front of people, know yourself and own your strengths and weaknesses – that will be what takes your furthest, advised Shimada.
Find what makes you tick
In being yourself, you need to be clear about what you stand for. "I would much rather hire someone who's got their own mission than someone who's learned everything from the book," said Osman.
For Shimada, promoting a healthy body image has defined her work. "It's so important to stay passionate. That's when the good work comes out," she said. Develop your interests by staying curious about the world around you – "keep reading, keep writing, keep listening" – you never know when an opportunity may arise to use them.
You can have multiple projects or "things", said Cairney, despite society's preoccupation with putting people in boxes. Milly Vincent, 20, a journalism student at City University London, took comfort in this: "I've realised you can do many things at once. I've always had that dilemma because I've always wanted to be a writer but I also love art and journalism. So that's given me hope."
Make your forte clear on social media, said Katie Allanson, YouTube chef at Katie Pix and social media manager at The Jamie Oliver Group. Follow individuals in your industry and reach out, so they remember you when opportunities arise. "Be a contributor, not a lurker," she added.
Twitter and LinkedIn are the most important platforms for building an online brand, said Allanson. Her challenge for those not already well-versed in social media is to tweet at least once, or engage with someone new, every day.
Be committed and persevere
Wearing running shoes might be de rigueur now, but Olympic athlete Perri Shakes-Drayton was in sports gear for years before it was cool and stuck with athletics even when she'd rather have been out drinking with her mates. It was sheer commitment that helped her achieve success on the track. When she started winning, she realised: "When something is going well you should stick with it."
Lily Pebbles, beauty blogger and YouTuber, recalled starting her blog as a hobby in 2010 while studying at Birmingham City University. She kept it up while working full time, before eventually becoming successful enough to turn her hobby into a career. Similarly, Shannon started writing her novel while studying English literature at the University of Oxford, which required strict time management and sacrifice. She'd skip pub trips and even lectures to write.
Even in your everyday work, said Gemma Cairney, follow through with every idea you propose at work. You can drop some projects if they're not working out, but keep two or three. "Some have to be finished, though, otherwise you won't get anywhere."
A career is a marathon, not a sprint, said Rose. "Don't sweat the small stuff," she advised, and keep perspective.
Show gratitude and pay it forward
"No one forgets nice people," said Shimada, "it will get you so much further in the end". Not only does it work in your favour if colleagues see you as grateful and generous, being kind-hearted to other women ultimately benefits everyone.
Journalist and TV presenter Billie JD Porter read out offensive tweets she had received to highlight how, as a woman, success often comes with scrutiny – from both men and women.
To work towards eliminating workplace discrimination, Lucy Emptage, a foreign exchange trader at RBS, said you have to call people out for their sexist remarks and behaviour. Be honest at work and challenge people you disagree with, she added, or else we'll never move forward.
If you ever feel the urge to be mean to – or about – another woman, "pay it forward" instead, said Osman, for example, by putting someone who needs your help in touch with useful people.
Shannon said she has vowed not to compare herself with other women in her industry but to stand alongside them. "I want to try my best to raise up other female authors and celebrate their accomplishments as I would celebrate my own," she said. The sisterly atmosphere in the room suggested others will follow her example.